BOHEMIA, YOUR PLACE IN WEST END
Turrisi Properties is proud to present Bohemia, your key to a charming lifestyle with all the very best aspects of Brisbane and West End at your fingertips.
Celebrating the vibrant architecture and design elements of the local area, Bohemia reflects both the remnant timber and tin cottages and the folded, saw-tooth roofs of heritage warehouses and factories that once defined West End.
Positioned just moments from the city with shopping, dining and nightlife on its doorstep, Bohemia is envisaged as a benchmark residential development capturing the true historic, cultural, architectural and urban design characteristics of the unique precinct in which it is located.
Secure your opportunity to live the dream in Bohemia, a compelling and long-lasting legacy for the area that will set a new benchmark in architectural quality and urban design achievements.

TRUE EXPRESSION BEGINS AT HOME
To suit all lifestyles, Bohemia will offer 94 tailored one, two and three-bedroom apartments over eight storeys. The expansive rooftop terrace will provide recreational facilities for residents, while discreet basement parking will accommodate cars and bicycles.
Reflecting the Bohemian nature of their surroundings, the spacious apartments feature a generous mix of timber, glass and concrete in various shades of light and dark.
The soft warmth of timber is beautifully balanced by a sophisticated neutral concrete-look stone, while grey mirror finishings bounce natural light and provide an air of opulence to both kitchen and bathroom.
Bespoke cabinetry detailing against warm neutral tones completes the seamlessly contemporary industrial look of each apartment.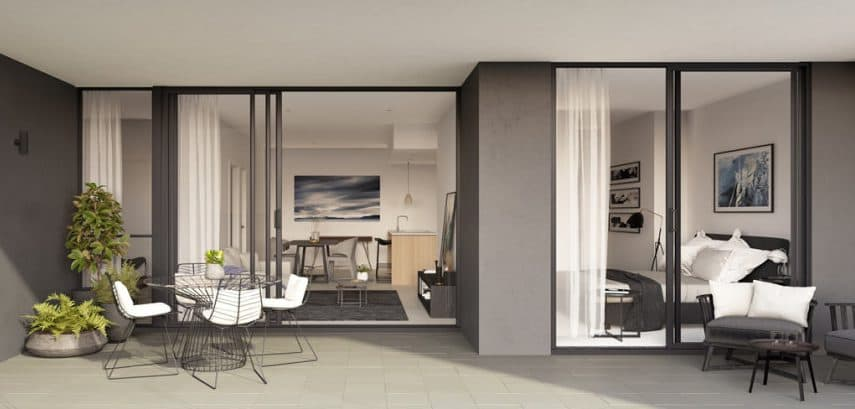 BOHEMIA – A DAY IN THE LIFE
Picture the sunlight spilling through your apartment window as you prepare for the day ahead. Stepping out the front door, you breathe in the fresh morning air before heading to the nearby Gunshop Cafe to fuel up on their renowned coffee and locally-sourced delicacies.
The weather is perfect and you can't resist a walk along the river to GOMA, Brisbane's home of leading contemporary art. After a stroll through the gallery you kick off your shoes at the nearby South Bank Parklands famous man-made beach and relax in the sun.
By this time your hunger has returned, so you shake the sand from your feet and find the nourishment you seek at Julius Pizzeria. Then it's back home to freshen up before wining and dining at the "Gastro-pub" inspired by London Fields, West End.
Live music fills Boundary Street, and that's exactly where you end the perfect day before heading back to Bohemia for a peaceful, well deserved rest.

WHERE AESTHETIC MEETS AMENITY
Tucking neatly into the apex of boulevard streetscapes, heritage warehouses and traditional timber and tin fretwork houses, Bohemia offers a unique inner-city lifestyle that is both active and stimulating.
Located on Jane Street, between Montague Road, Hardgrave Road and Boundary Street, Bohemia is well connected by public transport, while pedestrian and bicycle lanes provide easy access to the Brisbane River, South Bank the cultural precinct and the Brisbane CBD.
The immensely popular Davies Park is close by with open spaces for sporting events, casual recreation, weekly farmers' markets, Jane St community gardens, rowing sheds and Riverside Drive.
For all your shopping and fine dining needs, take a quick stroll to Hardgrave Road's dining precinct, the Boundary Street Entertainment Precinct or the Coles supermarket on Boundary Street.

THE CREATORS
TURRISI PROPERTIES – THE DEVELOPER
Developing for over 30 years, Turrisi Properties is a Queensland-based property developer specialising in residential, commercial and mixed-use developments in selective, unique locations. An unreserved dedication to the disciplines of architecture, town planning, environmental science and marketing results in selective and innovative developments which meet high community expectations and engenders a "sense of place".
ROTHELOWMAN – THE ARCHITECT
Architect Jeff Brown of Rothelowman brings a broad range of architectural experience in the UK and Australia, with particular proficiency in mixed-use residential buildings.Heavily involved in the processes of urban regeneration and growth, Rothelowman believes successful urban design connects people with place, facilitates desired activities and delivers a positive perception of the built environment.